Post SIHH with Emmanuel Alder, a.k.a. Barnabé Hossien
In the wake of both the first major watch event of 2015 and several exhibitions outside Palexpo-Geneva, this journalist who underwent watchmaking training in the Jura confided in us.
Barnabé Hossien could be your average Joe. Yet, behind the pseudonym there is a journalist who decided to add tweezers and screwdrivers to his pen and underwent watchmaking training in Tramelan. He likes asking profound questions to actors in the watchmaking world and he decided to tell us his impressions after the week of marvel.
What was your most unfortunate late arrival? We promise we won't tell!
Why, it was my actual arrival in Geneva! I came on Tuesday instead of Monday for personal reasons and I missed the opening ceremony, which I hear was splendid, celebrating the 25th anniversary of the fair.
Your most memorable appointment?

Probably the one I had at Rudis Sylva because apart from the Harmonious Oscillator, made of two balance springs, we were served beer from Franches-Montagnes. All in all, a fantastic way of living!
Your best selfie?
I haven't taken any. My arms are too short.
Your best encounter?

It was with Eric Othenin-Girard whom I had never met in person. On the one hand, there is his unprecedented involvement in the cultural and journalistic circles of French-speaking Switzerland and beyond. On the other hand, he is very approachable and never hesitates to speak his mind. He makes me feel daring to call myself a journalist.
Your best surprise?

In a world where political or economic extremes as well as other boring stuff – seriousness, forecasting, finance – often make headlines, the watchmaking world has way more than just one (pleasant) surprise for fans of beautiful mechanics and excellent aesthetics. And yet, if I were to make a choice, it would undoubtedly be Richard Mille's RM 19-02 Tourbillon Fleur. I found this model to be quite poetic.
Something that struck you about the organization?

The hostesses' hairdos.
Your shortest night?

I don't remember, I was sleeping.
Your longest day?

Every day was quite similar to the others, as we went from presentations to appointments, and in and out for lunch. But I think that the day I left the SIHH to go to Rudis Sylva to see the new models before stopping at Genthod to visit Franck Muller was the longest one.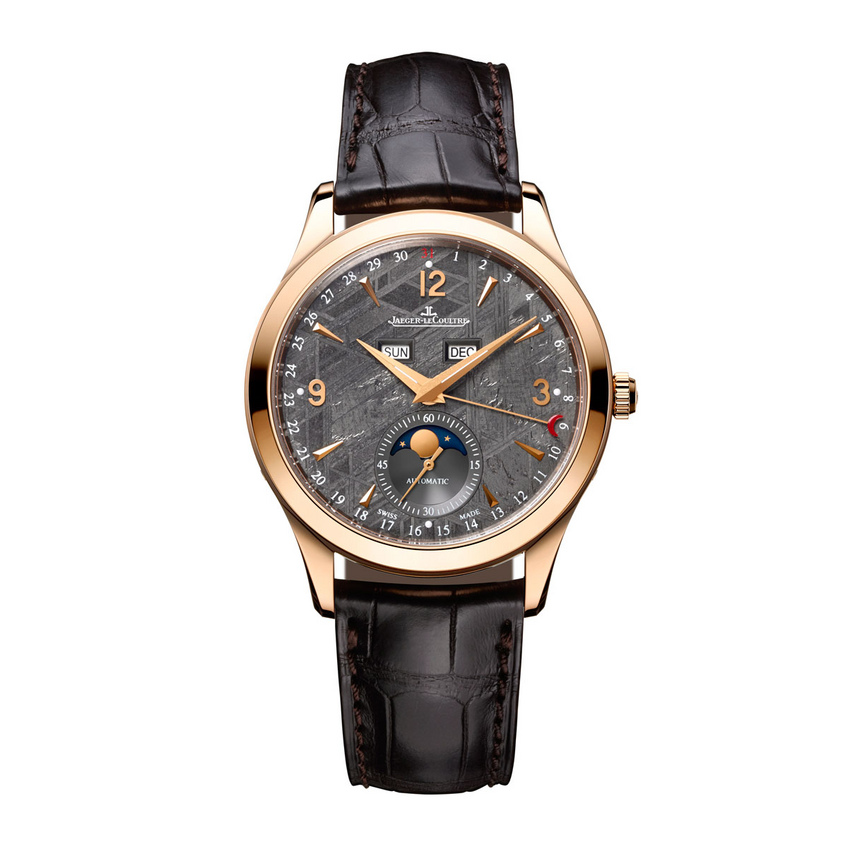 Jaeger LeCoultre Master Calendar Meteorite Pink Gold
Your favorite watch?

Jaeger-LeCoultre who introduced a new communications line this year, with its "Master Grande Tradition Grande Complication" whose flying tourbillon does just that: it flies above the dial. Once again, this timepiece has a poetic dimension that almost overshadows the incredible technique it houses.
The contact you most look forward to following up on and to getting to know better?
Rudis Sylva. I am looking forward to figuring out how we are finally going to test this famous Harmonious Oscillator correctly. It has not been given its due date yet, though I have a feeling it may turn out to be a piece that leaves an imprint on the great history of watchmaking.
The sentence or words that got to you?

"What are you eating today?"
By
Joel Grandjean
,
Editor-in-Chief
In the wake of both the first major watch event of 2015 and several exhibitions outside Palexpo-Geneva, Watchonista.com has interviewed some fellow journalists...