Post-SIHH: insiders speak, Suzanne Wong
The first major horological show of 2015, the SIHH, has come to an end, and so did the various smaller exhibitions outside the Palexpo in Geneva. As a few players in the horological media, Suzanne Wong answered Watchonista.com questions.She talks models, personalities and brands…
Suzanne Wong is the editor-in-chief of REVOLUTION Asia and is definitely a lot more experienced at asking questions than answering them. You can usually find her in Singapore, but it isn't unusual to spot her wandering around Switzerland (she has a train concession card and isn't afraid to use it). She's perpetually jetlagged no matter where she is, and is always in desperate need of more time and a haircut.
We promise we will not say anything. Your most unfortunate late arrival…?
I was late to my own magazine's editorial meeting, and I was the one holding the meeting agenda. It was the Thursday of the SIHH, and there were relatively few appointments, so that's when the international REVOLUTION editors sit down together, talk about the fair and go through a big global agenda for the year ahead. To be perfectly fair, I was late because I was stuck in a one-on-one interview appointment. That appointment ran late because the journalist before me was late.
He in turn was late because another journalist had cut into his previous appointment.
However, this is the story of the SIHH, and I've found that you usually get the most out of the fair by having a relatively flexible mind about these things. I had to run (in four-inch stiletto boots) from the press centre to the area in front of the Panerai booth, where we were meeting, but the bright side of things is that I achieved my daily quota of physical activity in that panicked sprint.
Your most remarkable meeting?
My most remarkable meeting wasn't even on my schedule. I had some free time one day and decided to toddle over to the Audemars Piguet booth in order to catch up with Giulio Papi, since we were unable to arrange for an official appointment beforehand. We had a wonderful, totally off-the-record conversation about some absolutely fascinating technical aspects of watchmaking. Eventually Claudio Cavaliere and Sebastian Vivas got sucked into the orbit of our discussion and it is to my eternal regret that we were unable to continue talking for another half an hour at least.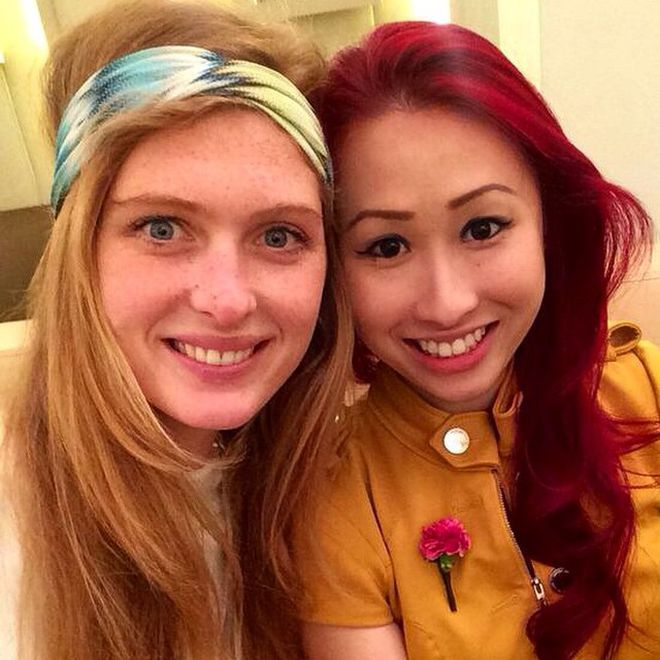 Eléonor Picciotto & Suzanne Wong
Your most successful selfie?
The only selfie I took during the entire SIHH was technically a wefie, and it wasn't even taken by me personally.
It was with my friend Eléonor Picciotto — it was an awesome photo! — and it was after a long day of appointments when we were sitting in front of the Richard Mille booth with some (cough) sparkling beverages.
I did take an enormous number of wristshots, however, and one particular excellent wristshot I took was with Anish Bhatt of Watch Anish. The watches were great — I was wearing my PAM 599 REVOLUTION Special Edition, and he was wearing something I don't remember — but the memorable thing about this shot was really the background. It was about ten empty pizza boxes on the kitchen counter in the apartment that he and his team were sharing.
It was like Godzilla had torn through those pizza boxes, they were so thoroughly ravaged. Never mind the fast cars, sharp suits and expensive cigars — you want to know what the Watch Anish team do to prepare for the SIHH week? They consume vast quantities of pizza and listen to rap music. BOOM.
Your best encounter?
It's hard to name just one. The thing about the SIHH is that you sometimes feel like a piece of Velcro in a sweater shop. You can't take five steps without being caught. You see someone you have to quickly say hi to, and before you know it you have one minute to run from Vacheron Constantin to Ralph Lauren.
This happens every day, between every appointment, and this is also personally happening to every single person you meet. And because I'm based in Singapore, almost everyone I bump into is someone that I haven't seen for months. So every encounter has its own particular set of pleasures.
One encounter — I guess this question refers to spontaneous meetings? — that comes pretty near the top was on Monday evening when I wandered into the Jaeger-LeCoultre booth, came across Stéphane Belmont and shared a quick chat with him. By some enormous stroke of good fortune, he happened to have the latest Master Grande Tradition Grande Complication with him and I got to listen to the chime — I know they're very happy with the refinements they've recently made to the mechanism. Spectacular.
The most surprising brand, product, material or person?
I had an appointment with Christian Selmoni of Vacheron Constantin —I'm not quite sure if "surprising" is exactly the word I should be using in this context — but the conversation we had really expanded my perspectives on Vacheron Constantin, on their approach to product, on good design philosophy.
So many people would instantly assume that working for Vacheron Constantin is indicative of a super traditional and conventional attitude, but this is clearly not the case at all. Speaking to someone such as Christian Selmoni, who combines vast experience with a highly progressive approach, was one exceptional privilege I truly enjoyed at the SIHH this year.
Something that struck you about the organization (in either a good or bad way)?
I'm probably going to get into trouble for saying this… but there were simply too many pointless marketing videos. I love videos when they show us details that we don't have time to discover during the brief press sessions. I love videos that delve deep into the movement and illustrate technical points that you can't explain with words alone.
What I have issues with are videos which only try to impress us with a mood or a story. First of all, we are all professionally mature enough to make up our own minds about a product, and I'm not a giant fanatic of being told what to think or how to feel about a watch. Secondly, although I appreciate the volume of work and time that goes into such videos, I think that they make things too easy for the press — it encourages us to be lazy.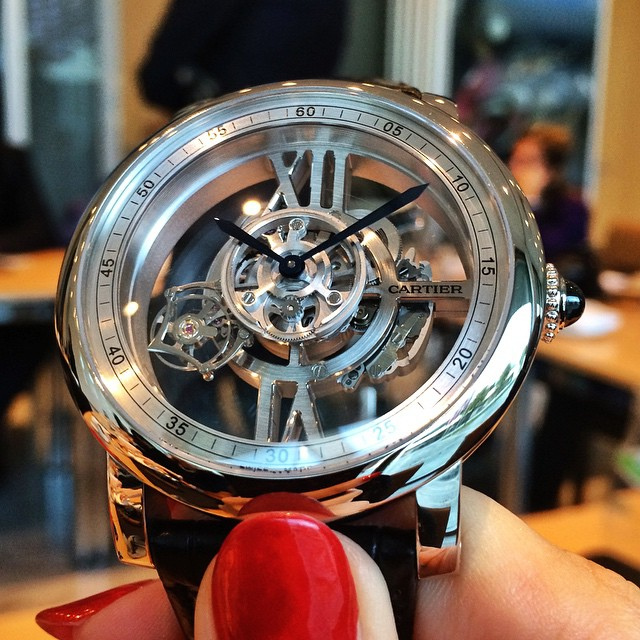 Rotonde de Cartier Astrotourbillon Squelette
I think about the rich, multi-level exchange of information that happens when I'm speaking with the truly passionate company representative (whether it's a brand executive or a designer or someone in product development) and I have to admit that marketing videos can sometimes make me extremely impatient.
Your shortest night
We had a very discreet little party with some friends on Thursday night to celebrate the 10th anniversary of REVOLUTION, and it ended slightly later than we expected. That's my story and I'm sticking to it.
Your longest day
I'm not sure how this is a separate question from the previous one.
Your favorite watch
The Rotonde de Cartier Astrotourbillon Squelette. It is a perfectly balanced watch — open yet strong, transparent yet eye-catching, technically refined yet aesthetically forceful. A lot of people will give the Grande Complication their loudest applause, and I can totally see why, but it's the Astrotourbillon Squelette, I feel, which is the best manifestation of the Cartier spirit and philosophy this year. It represents so clearly the complex dichotomies which I have always read into the brand; to me this is simultaneously powerful and seductive.
The contact you most look forward to following up on and to getting to know better
Actually, quite a few of my international REVOLUTION colleagues, although not new to the industry, are pretty new to the team. I'm really looking forward to developing a strong working connection with them, and cultivating great creative synergies between our respective editions.
The sentence or words that got to you?
The obsessive, endless chatter about the abrupt and unexpected change in the Swiss National Bank's monetary policy. I love pretty much all aspects of the watch industry, the economic side included, and I had plenty of unofficial conversations dissecting the situation (motivations, implications, reactions etc) with different people. It's definitely an area of massive concern and has far-reaching consequences which are fascinating to speculate on.
However, I felt it was a shame when I occasionally observed the products being overlooked during the fair in favour of questions relating to financial institutions and currency markets. The watches certainly deserved much more attention than they received this year.
By
Joel Grandjean
,
Editor-in-Chief
In the wake of both the first major watch event of 2015 and several exhibitions outside Palexpo-Geneva, Watchonista.com has interviewed some fellow journalists...