SIHH 2015 - Day 1 by Eléonor Picciotto
Just a few minutes before the 25th opening of the SIHH the latest series of events prevents our mind to think positive, retailers to spend and brands to sell. Everbody wears black, so is the color of the sky.
Banners are all over town, suspended by the red city lights. The outsiders of the SIHH have taken the advantage of the weekend to present their latest collection, hence the journalists walking around the city with shopping bags. Restaurants, cabs, hotels are full. Geneva is full and living. Let's enjoy it first and see what will happen next and welcome to the Salon International de la Haute Horlogerie.
Stepping into Palexpo among hundreds of sleepy heads – yet, it's only Day 1, a wide range of smile exchange, hand shakes and polite conversations start off.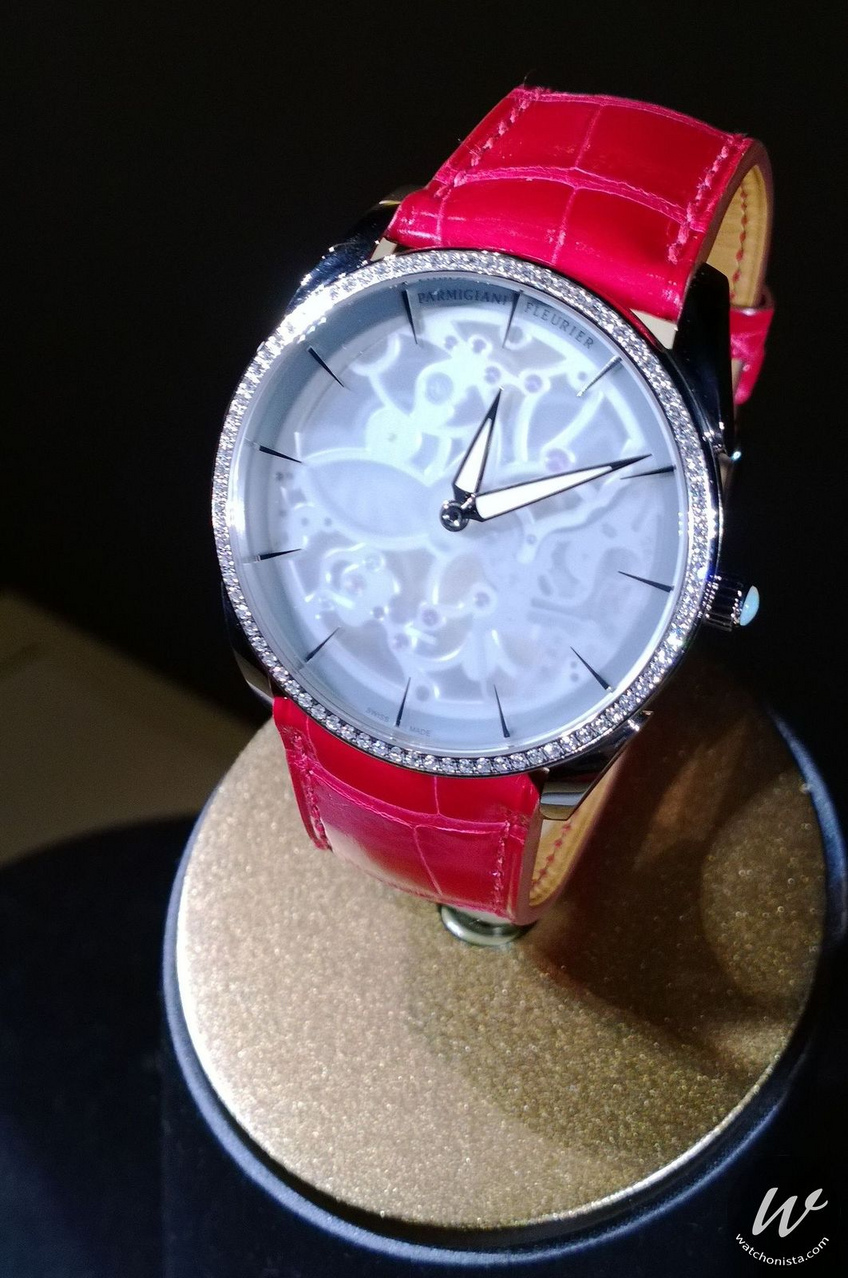 Parmigiani Fleurier Tonda 1950 Squelette
Although… a few minutes later, you can easily hear them whisper « he's a weirdo», « she gained weight » or a « I don't know how he survives with his attitude, if not his creations… » Nevertheless, it is a big family reunion, where we are all trying to survive in this crazy world of watchmaking.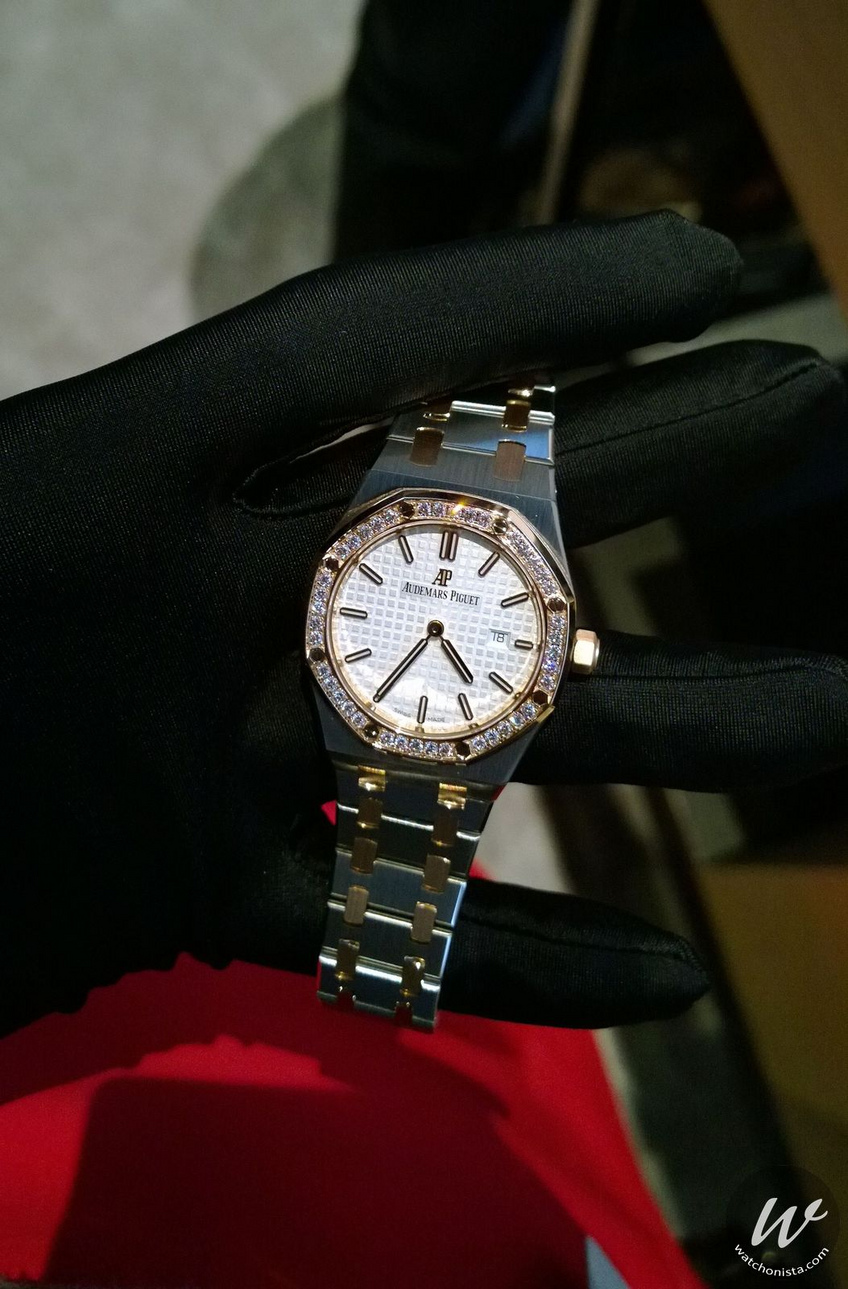 Audemars Piguet Royal Oak Quartz Dames
Speaking of survival, it's hard to predict what will happen within the next few weeks or months. The prices announced are followed by a « at least as of today », clients aren't sure if they should buy yet and some press presentations aren't inviting you to-do so based on the on-stage product presentation. Someone's yawn was so loud that the entire group burst out laughing ! But at the beginning of the day - the big question remains : what are we going to see? Who is going to surprise?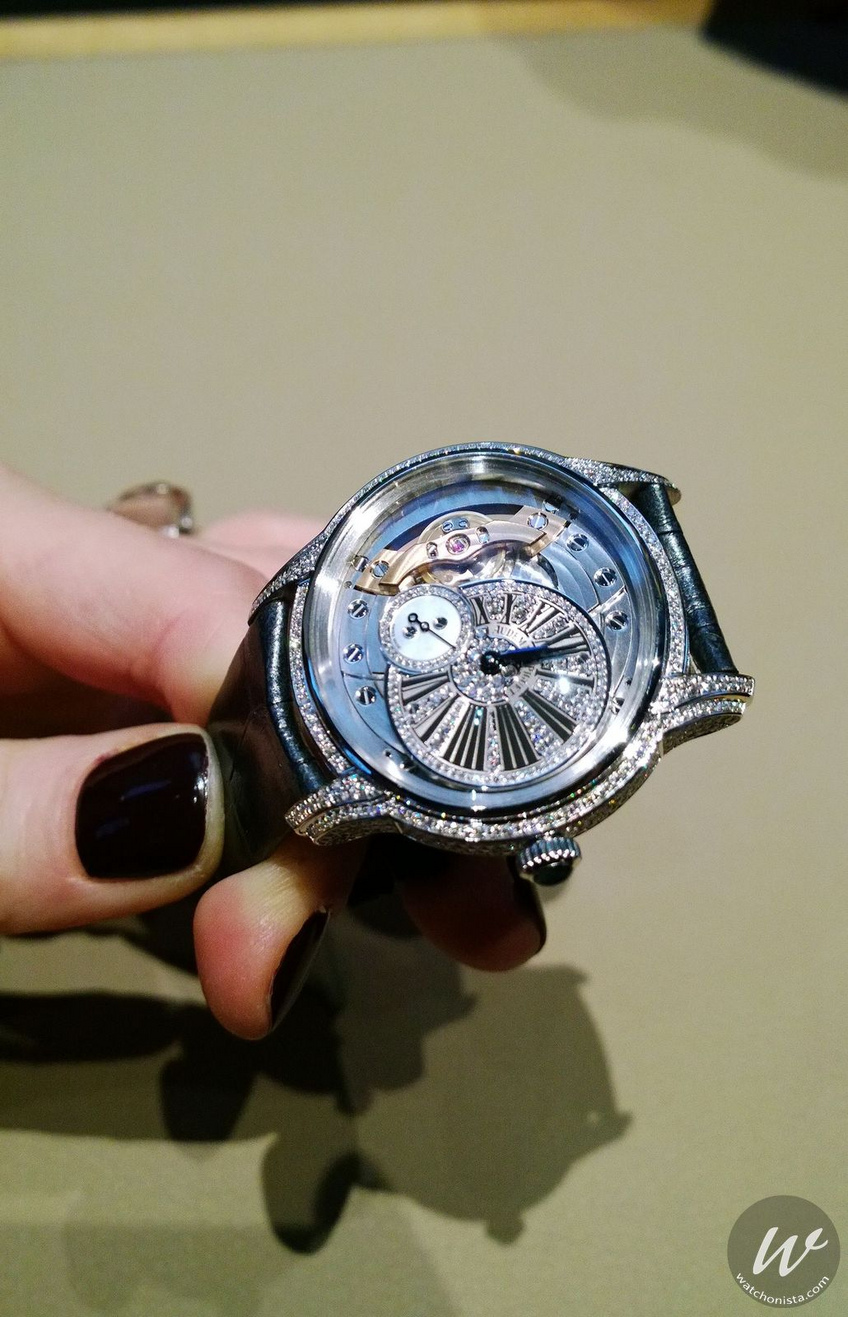 Audemars Piguet Millenary Remontage Manuel
Finally and thank you - at Audemars Piguet this year, women are the main focus. The video of their new high jewelry piece begins with a melody screaming into your ears « Take you higher higher higher… » We definitely are, introducing a mix of punk and glamorous- the piece is insane. Inspired from the 70's, the Diamond Punk is a juxtaposition of diamond prisms combining 8148 diamonds of different sizes altogether. The result is a provocative cuff piece breaking the codes of traditionnal high jewelry.
The 2015 SIHH started with sparkle, let's make it last. Four days to go and hopefully even more interresting pieces to discover thanks to energetic presentations – and not remedes for sleeping disorders !
Eyes are wide open, woken up with memories of the past few hours I mechanically get out of bed and start writing about Parmigiani's unique pocket watch...